For a limited time receive discounts on Displays and Projectors for customers in Education! Receive even BIGGER discounts on select products or when buying in bulk! In addition to these discounts all products include FREE shipping and all displays come with a 3 year warranty. If you would like to test out any of our Education products, Ask us about our one week FREE trial!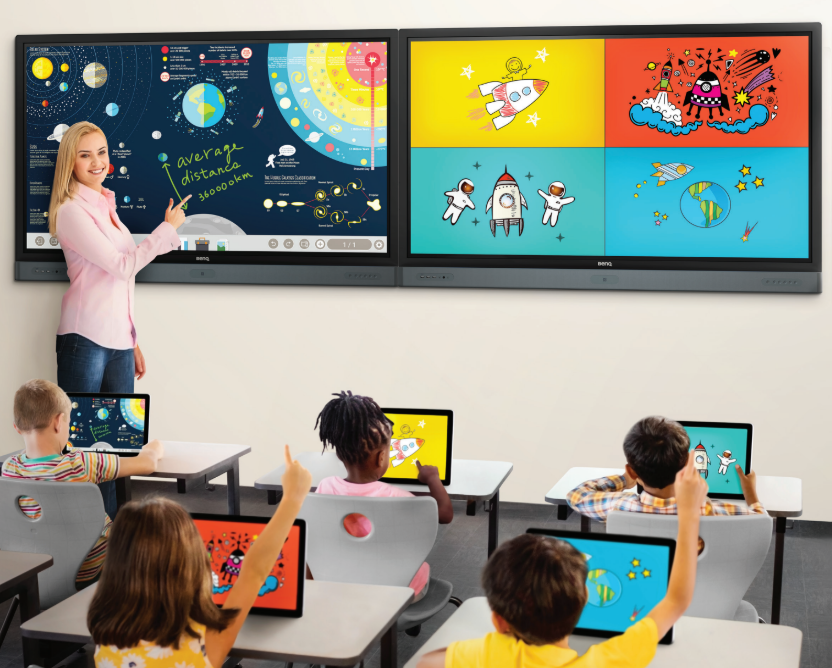 BenQ Interactive Displays for Education are designed to tap into the dynamic possibilities of the classroom and help teachers build a healthy and engaging learning environment. Not only do they come with Eye-Care solution, but they are also installed with proficient cloud whiteboard for enhanced class participation and foster collaboration with students beyond locations and platforms. BenQ offers your ultimate interactive display to achieve a touch-enhanced, and connect entire class for a smooth and fun learning experience.
Featured Product: BenQ RP8602 | Our Price: $3,750.00 | FREE Shipping
---
BenQ's RP8602 is designed to build an engaging and healthy teaching and learning environment. Installed with proficient cloud features including cloud whiteboard, the R86P02 enhances class preparation participation and fosters collaboration beyond locations and platforms.


Samsung's range of e-learning solutions help to empower every student to stay connected and continue to participate in classes, wherever they are. Solve your next problem, brainstorm the next big idea or present to the group with ease—all with Samsung's interactive display series.
Featured Product: WM85R | Our Price: $3,750.00 | FREE Shipping
---
The Samsung WM85R  is an interactive, touchscreen digital display that empowers educators with the tools to deliver effective collaborative lessons. You can give highly visual presentations and add notes on the touch display, and the interactive screen allows several students to come up and work simultaneously.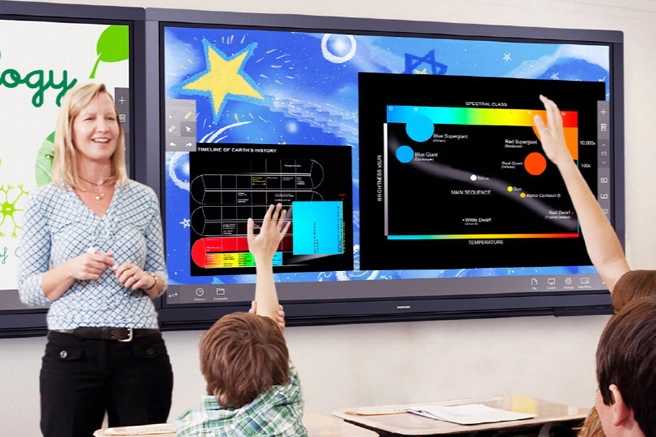 LG products allow you to leverage technology to enhance the learning environment and encourage spontaneous collaboration in virtually any transition space on a school's campus. LG Interactive Digital Signage along with LG webOS™ Signage makes it easy for educational facilities to get started with a digital signage network, and just as easy to take it to new heights.
Featured Product: LG 86TR3BF | Our Price: $3,750.00 | FREE Shipping
---
LG's 86TR3BF with cutting-edge touch technology in the TR3BF-B Series displays support dual pen & multi-touch functions. This provides accurate drawing and authentic touch quality. In addition, the Air Class and web browsers support multi-directional communication and interactive learning.


Epson continually offers educators new solutions for the challenges they face. Epson's newest budget-friendly laser projectors are made for today's teaching environment and create immersive, laser-focused learning… wherever you are. Epson projectors are a reliable solution that help educators easily integrate traditional or digital teaching.
Featured Product: BrightLink 1485Fi | Our Price: $3,350.00 | FREE Shipping
---
Epson's Interactive BrightLink 1485Fi projects large, 100", 16:9 and super-wide, 120", 16:6 images, offering up to 95 percent more interactive space vs. a 75" flat panel. Designed for easy collaboration, the 1485Fi supports PC-free whiteboarding, printing, emailing and more. Plus, it easily hosts other network-connected BrightLink projectors.