VG Tuesday Tips: Why Enterprises Use Private LTE as Wireless LAN
Virtual Graffiti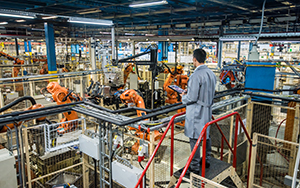 Organizations are Leveraging CBRS & Other Bands Instead of WiFi for Cost Savings, Performance & Security
WiFi has a valuable place in our world. However, as IoT devices and high-bandwidth applications continue to spread their tentacles into every industry, it is clear that one of WiFi's biggest limitations is in large areas where a wireless LAN is needed. Challenges of WiFi related to cost, performance, reliability, and security have created a gap that Private LTE is poised to fill.
How Private LTE Works
Private LTE is similar to a public cellular network. The main differences are that with Private LTE, organizations place micro towers and small cells on-site, and they often use shared spectrum such as CBRS, which provides the ability to leverage cellular without fixed-rate bills. Overall, Private LTE allows them to:
Implement LTE anywhere — even in highly remote areas.
Keep most network traffic on-site, which reduces latency and costs — especially when using CBRS.
Increase data security.
Eliminate traffic competition with nearby LTE users.
Private LTE usually involves several pieces of hardware; on-premises servers, applications, and services; and public cloud services. However, a Private LTE user has the flexibility to use a third-party network provider, use a traditional cellular operator, or manage the network internally.
Private LTE vs. WiFi
Organizations with sprawling areas such as warehouses, mines, campuses, and even entire cities can implement Private LTE as a wireless LAN that is much more prudent than WiFi.
Costs
Private LTE infrastructure is far less expensive than what's needed for a widespread WiFi deployment, which requires extensive and expensive wired line installation and a much deeper investment in access points.
Performance & Reliability
WiFi lacks the stability necessary to support high-bandwidth applications such as wireless robotic devices and real-time video surveillance streaming — especially in large settings. Examples include wireless robotic devices and real-time video surveillance streaming. Additionally, through priority and preemption, organizes can use their Private LTE network to assign better Quality-of-Service (QoS) to certain SIM cards and endpoints.
Security
The infrastructure used for LTE networks enables layers of security that aren't possible through WiFi. Also, Private LTE network architecture usually includes on-site servers, giving organizations the ability to keep traffic between IoT devices and corporate servers on the wireless LAN instead of the public Internet.
Ideal Use Cases for Private LTE
Remote Locations
In spots where public cellular infrastructure doesn't exist, organizations have the ability to deploy a wireless LAN via Private LTE.
Complex Networking Needs
In big spaces with complex network requirements and hundreds of users and devices, Private LTE helps prevent debilitating network congestion and is very cost-effective.
Highly Sensitive Information
In situations where highly sensitive information is unavoidable, organizations such as hospitals can keep important key data on-site via Private LTE and prevent the security risks associated with WiFi.
Separate Network for IoT
When IoT devices and big data are common across a huge area, organizations can use Private LTE for an isolated, secure network without a separate SSID or additional infrastructure.
High-Bandwidth Traffic
What if you need to connect hundreds of video surveillance cameras? Private LTE with CBRS or a fixed-rate cellular plan is a cost-effective option that can eliminate the worries tied to data usage management.