VG Tuesday Tips: Why Traditional MPLS Networks are Ill-Suited for UCaaS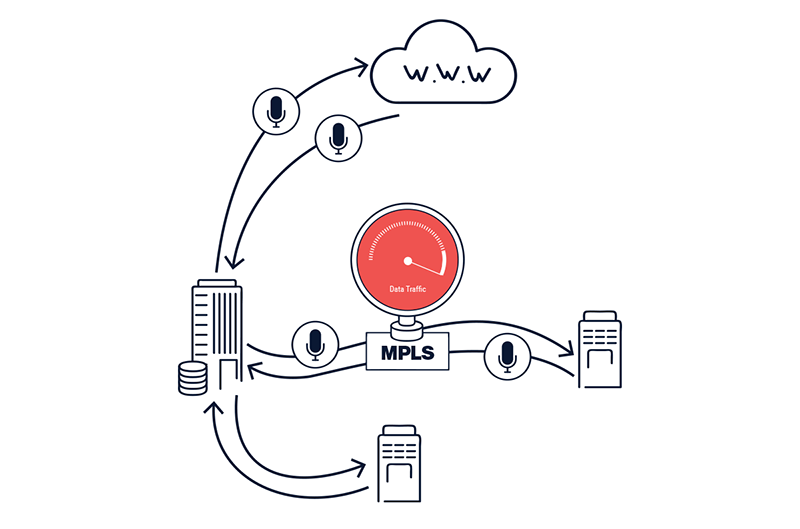 Unified Communications as a Service (UCaaS) adoption is on the rise in the enterprise and with that comes significant impact for IT managers considering how their MPLS network transformation. I'll be taking a deeper look into those challenges in this week's webinar, but here's a quick preview.
What's UC And Why UCaaS
Like UC, UCaaS improves team collaboration by packaging calling, meetings, team collaboration into a seamless experience. But while UC brings the cost and complexity of hosting and maintaining server infrastructure in the enterprise datacenters, UCaaS avoids those problems, putting UC in the cloud. Organizations gain the flexibility, easy adoption, predictable costs, and quick access to emerging features that are first, and in many cases, only available via the cloud.
The UCaaS Challenge For Modern WANs
For all of its benefits, UCaaS poses significant challenges for traditional enterprise network architectures.
Most enterprise data networks are still optimized for a computing model in which the bulk of applications reside in the datacenter. Clients – including browser, native app, and those running within virtual desktop infrastructure – are used to interact with applications and data stores either in enterprise-owned facilities or within co-location providers connected to the enterprise network via Ethernet and MPLS. Internet access remains tightly controlled, with only large, or headquarters facilities having local Internet connectivity. Thus, all access to Internet-based apps requires routing flows from the branch to the headquarters or datacenter location, and then out to the Internet.
This approach is ill-suited to a rapidly changing application delivery model in which apps may reside in public cloud infrastructure (e.g. Platform-as-a-Service (PaaS) and Infrastructure-as-a-Service (IaaS) or are obtained from software-as-a-service (SaaS) providers. This is especially true for those adopting Unified Communications-as-a-Service (UCaaS) due to the potential for poor voice and video performance as a result of excessive latency and variable network performance.
Consider the scenario in which a worker at a branch office calls a worker at another branch office. In the centralized Internet access architectural model, that call would go from the originating branch, out the nearest Internet connection point, to the UCaaS provider, and then back in the Internet connection point nearest to the destination branch as shown below: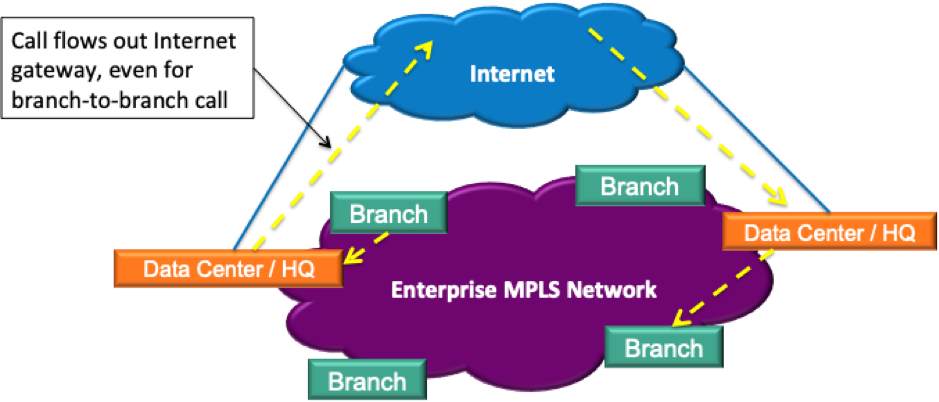 This inefficient routing of call traffic is likely to lead to poor call performance, as well as potentially overloaded Internet connection points, especially when using high-bandwidth apps like video-conferencing and video streaming.
SD-WANs And Needed Changes For Better UCaaS Experience
What's needed is a rethinking of network architectures, one that is optimized for UCaaS. In this new model, Internet access is available at every branch, ensuring that each branch is able to reach the UCaaS provider as efficiently as possible.
But simply connecting all branches to the Internet creates security challenges and may not provide sufficient performance to support real-time applications. The answer? SD-WAN. SD-WAN enables organizations to bring direct Internet connectivity to all branch offices and may provide performance guarantees to ensure that latency and jitter levels meet the needs of real-time applications.

Furthermore, leveraging SD-WAN services that offer security management can reduce operating costs, and headaches, saving enterprise customers from the expense and complexity of managing distributed Internet access points. They can ensure the application of consistent policies at all branches without the need to deploy additional branch hardware, and they can protect against UC-specific attacks including SIP ex-filtration (in which SIP requests are used to obtain data from endpoints running SIP softphones) as well as denial of service attacks.
Orignal Post from Cato Networks